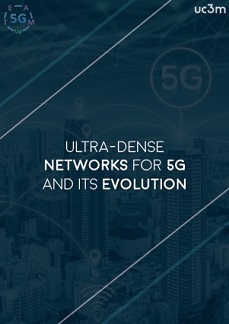 MOOC on "Ultra-dense networks for 5G and its evolution"
Authors
Ana García-Armada, M. Julia Fernández-Getino García, Máximo Morales-Céspedes, Victor P. Gil-Jimenez, Manuel J. Lopez-Morales, D. Alejandro Urquiza-Villalonga, Diego Gonzalez-Morin, Nidhi, Bahram Khan, Farinaz Kooshki, Ahmed Al-Sakkaf, Leonardo Leyva, Hamed Farkhari, Daniele Medda, Ilias-Nektarios Seitanidis, Ayman Abu-Sabah, Joseanne Viana, Pedro Cumino, Fernando J. Velez, Athanasios Iossifides, Periklis Chatzimisios, Rodolfo Oliveira, Pablo Pérez
Abstract
5G, the fifth generation of mobile communications, whose deployment is currently happening throughout the world, is seen as an engine of the economy and is the focus of all actors in telecommunications worldwide. It is a result of the rapid evolution of mobile communications. It will add high reliability and low latency machine-to-machine communications to increased data speeds for broadband communications, for which there are so many active mobile phones today as people on the planet. To do this, 5G incorporates new features in both radio technologies and architecture, which must still continue to evolve in order to provide new applications and services, some of which we have not yet imagined.
One of the keys to this evolution is ultra-dense networks, made up of small cells, known as small cells. With this course we want to present the fundamentals, architecture, key technologies, use cases and evolution of 5G mobile communication systems, with an emphasis on increasing capacity and reducing power that facilitates the deployment of small cells. The course has been prepared by the researchers of the European project TeamUp5G, young and senior researchers working to improve small cells in 5G.
The revolution of mobile technologies starts with 5G. Knowing its possibilities will make you stand out among the rest. Are you ready for the change that 5G will bring? Are you ready to learn about it in this MOOC?
license
Creative Commons Attribution-NonCommercial-ShareAlike 4.0 International License
created with support of

This work has received funding from the European Union Horizon 2020 research and innovation programme under the Marie Skłodowska-Curie ETN TeamUp5G, grant agreement No. 813391.