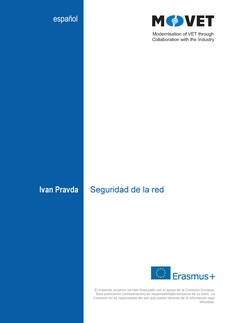 Seguridad de la red
Translators
Juan Antonio Ortega
Abstract
Este módulo formativo trata las capacidades de seguridad en la red con un enfoque en Redes Privadas Virtuales (VPN, Virtual Private Networks). Se definen una serie de conceptos básicos, incluyendo la descripción de algunos componentes básicos y conceptos de VPNs. Además, se enfatiza en la explicación del protocolo IPSec y en los mecanismos que permiten la implementación de la seguridad de redes privadas, como el método ISAKMP/IKE y el mecanismo de intercambio de claves Diffie-Hellmann. Por último, pero no por ello menos importante, el módulo contiene una serie de ejemplos prácticos y soluciones para ellos. La parte final del módulo describe la firma electrónica.
license
Creative Commons BY-SA 4.0
created with support of
El presente proyecto ha sido financiado con el apoyo de la Comisión Europea. Esta publicación (comunicación) es responsabilidad exclusiva de su autor. La Comisión no es responsable del uso que pueda hacerse de la información aquí difundida.