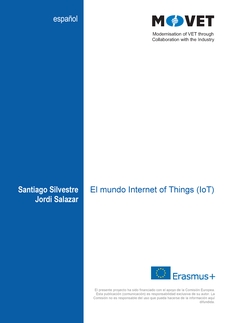 El mundo Internet of Things (IoT)
Authors
Santiago Silvestre, Jordi Salazar
Abstract
Este módulo describe el mundo del Internet de las Cosas (IoT). Se introducen las principales tecnologías involucradas en el uso de IoT. Se describen también los dispositivos y plataformas IoT. Finalmente, se muestra una lista de aplicaciones reales de IoT para varios campos típicos de aplicación.
license
Creative Commons BY-SA 4.0
created with support of
El presente proyecto ha sido financiado con el apoyo de la Comisión Europea. Esta publicación (comunicación) es responsabilidad exclusiva de su autor. La Comisión no es responsable del uso que pueda hacerse de la información aquí difundida.